Features
Web Access for Download, View, and Print


Password Management
Fax-to-Email with Attachment (Unified Messaging)

Fax-to-Email with Notification
Fax-to-SMS Notification


Fax-to-SMS Reminder


Description
Norfa.com offers Virtual Fax services allowing businesses and individuals to receive online and offline faxes to their assigned Service Number. The system will accept any fax format, store it locally, and if configured send it via email to the subscriber's email address. The Fax management is similar to the Voicemail management. In fact both system share common folder organization and both types of Voicemail and Fax files are downloadable and visible via the Voicemail/Fax functionality. All supported notification features for Voicemail such as Email and SMS notification are also supported for Virtual Fax. The Virtual Fax functionality allows subscribers to receive faxes without owning a fax machine or occupying a fax line. Virtual fax is commonly used to allow automated fax processing and global distribution, and international fax forwarding to avoid high international call costs.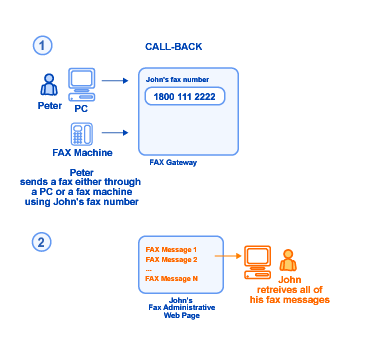 Fax Flow
Caller calls in your Service Number.
Caller reaches subscriber Virtual Fax.
Caller initiates the fax transmission
Fax is received and stored locally
Subscriber receives an email with the Fax attachment or just a Fax notification via SMS.
Subscriber manages his Virtual Fax folder via Web or Phone.
Features
NAT Traversal and Firewall Friendly


View-Only and Full Mode Desktop Sharing
White Board and Drawing support
Data and File Sharing

Phone and Online Communication
Data Sharing and Team Collaboration


Secure Service Access and Encryption


Description
Norfa.com offers advanced Web Conference environment for individual and business subscribers. The Web Conference service offers simultaneous Phone Conference initiated via Web and Desktop Sharing services. Once the service is initiated the subscriber can grant limited or full access to his PC desktop to his conference partners while the parties are on the phone talking to each other. The service supports advanced features such as full desktop sharing, view-only and full mode, and conference desktop sharing (multiple parties manage one computer), white board, data and file sharing with real-time audio phone conference services. The Web Conference is commonly used for sales presentations, customer service, technical support and troubleshooting, and secure access. The system is designed to work behind NAT to allow connection even if both parties are behind firewalls.

Web Conference Flow
Subscriber logs into the Norfa.com web site
Subscriber initiates Web Conference (starts the ActiveX application on his desktop)
Subscriber invites the other parties by sending them Web 4. Desktop Sharing Invitation links via Email or Messenger Service
Subscriber invites the other parties via phone from the web interface
All parties enter the phone conference room
The parties click on the Web Desktop Sharing Invitation links
All parties have a view-only access to the subscriber's PC computer.
Subscriber can terminate the web conference at any time or disconnect participants form the audio conference room.
Features
Web SMS Service Interface


Alphanumeric SMS Message Format Support
Global SMS Distribution

SMS Broadcasting to more than one SMS number
SMS Content Distribution (ring-tones and pictures)


Description
Norfa.com offers SMS Service interface to all SMS/GSM providers. Utilizing the system, subscribers can send SMS messages to any phone number in the world that accepts SMS messages. The messages can contain alphanumeric text, or have attachments (only selected phones are supported due to the proprietary format of the SMS objects) such as ring-tones or pictures via SMS. The feature also allows high level of SMS chat and gaming activity as well as SMS broadcasting. Due to the nature of the SMS Service all outbound SMS messages incur nominal cost for distribution.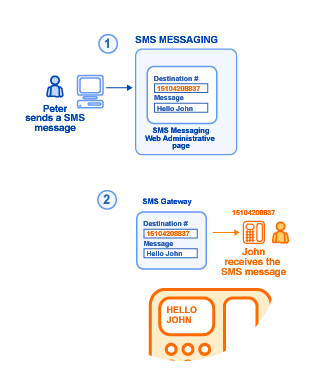 Call Flow
Subscriber logs into Norfa.com web site.
Subscriber writes the SMS message.
Subscriber selects the target SMS number or multiple SMS numbers.
Subscriber selects an SMS object to attach to the message such as ring-tone or picture.
Subscriber sends the SMS message.
Features
Customizable Department Selection menu


Time-based IVR menu (business hours and after-hours)
Caller Selection Identification to Subscriber
Male and Female Prompts
Support for 9 Forwarding Numbers

Voicemail Forwarding Support
Multi-Session and Failover Support


Web Management


Global Number Forwarding


Description
Norfa.com offers advanced conference services for businesses and individuals. Supported services include conferences that are traditional, scheduled, invite-only, private and public. The system supports three levels of conference user roles that include Administrator, Regular Caller ,and Muted Caller. Administrators can manage conference rooms from the phone (Administrative IVR) or via Web (Web console). Two types of conferences are supported: private (pin authenticated) and public conference. The conference participants may be asked for PIN authentication to enter the conference, if required, or authenticate with Name (conference screening). Administrators can disconnect, mute, and unmute participants via Phone or web at any time, terminate conference, or record the conference and manage the records online or via phone. Scheduled conferences are fully supported based on time or administrator login event. Conferences support private bridging (allows two participants to talk privately), and status services (provides conference status). Conference access can be Service Number based (single-stage) or Extension Number based (two-stage), based on the subscriber profile setup.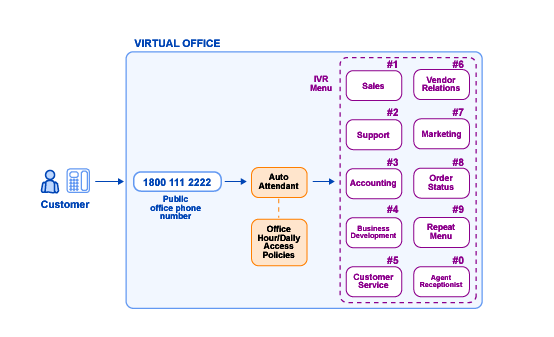 Call Flow
Caller calls the Virtual Office.
Virtual Office greets the caller and plays the enabled department selections. Currently supported selections are: Sales, Support, Accounting, Business Development, Marketing, Customer Service, Vendor Relations, Order Status, and Operator.
Caller makes a valid selection.
The system forwards the call to the number assigned to this selection.
The subscriber hears the caller selection identification and decides how to respond to the call.
Both parties are connected.