Introduction
SysMaster VoIP Gateway/Class 4 Softswitch offers universal solution that allows dynamic call management in real time. All calls are routed via the available PSTN or VoIP channels based on custom routes for individual resellers. The gateway allows proxy services so that origination and termination partners are securely separated. The gateway also supports all PC-to-Phone customers with custom IVR prompts. Multiple Gatekeeper registrations are supported to several large termination providers for problem-free call management.
General Features:
H.323 and SIP protocols support
Up to 480 PSTN/SS7 channels and 1920 VoIP channels
Registration in Unlimited Gatekeepers
Two IP channels in one call that can be used for VoIP proxy services
All codecs capable of operating concurrently
Unlimited IVR profiles including ANI, PIN, PIN/ANI, pass-through authentication mechanisms
Unlimited dialing plans/routing tables to allow custom routing based on GW IP address/subnet or channel type.
Provides time based routing and LCR support.
Provides fail-over of remote routes based on L3, L4, L7 remote service checks
Unlimited language servers
Full RADIUS/VSA support for complex Radius billing/CDR interfaces
Allows custom voice prompts and custom languages
Allows Callback services based on two IP leg solution
PC-to-Phone support with IVR support for VoIP clients for ANY codec
Call Drops, Call Forwarding, and Advanced Number Processing support
Built-in Customer Service Number, Credit Time, and Credit Balance support
Intuitive, user-friendly GUI interface
Extremely Attractive Price with unlimited upgrade options
Full Compatibility with Cisco, Lucent, Quintum, IP phones, Soft phones
Additional QoS (Quality of Service), Firewall, and Routing modules available

SysMaster Gateway as a Class 4 Softswitch
SysMaster Gateway module allows for redirecting H.323 traffic. This way it acts as a proxy H323 server allowing for the following:
Implementing flexible H.323 setups;
Hiding the source IP address of the origination party;
Implement Callback gateway.
SysMaster Gateway as a Callback Gateway
SysMaster Gateway module can operate as a Callback Gateway is a gateway that allows support for call back services via one of the following methods (each method requires separate module);
Web/Email callback is a callback service that is triggered by the reception of web or email message from an authorized user;
SMS callback is a callback service that is triggered by an SMS messages send by an authorized GSM user;
ANI callback is a callback service that works locally (international long-distance providers do not support Caller ID well) to isolate the called id of an authorized user and to trigger a call back.
The callback server is meant to operate along with the designated modules in a turnkey solution fashion. It allows for easy return on investment in countries where users are charged high fees to initiate calls or where the users want to keep their call details private. The callback server supports the following key interfaces:
RADIUS Interface

for call authentication, authorization, accounting (AAA) with support for dual call leg billing and dual timer support;

H.323 Gatekeeper support to allow all calls to be dynamically routed to the destination via a gatekeeper;
Dynamic billing provided by the VoiceMaster billing platform;
Support for popular codecs.
SysMaster Gateway as a VoIP Gateway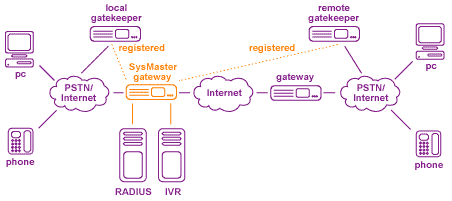 SysMaster VoIP Gateway/Class 4 Softswitch is a traditional VoIP gateway that allows call termination from and to the PSTN line and the Internet. The gateway provides flexible and scalable VoIP solution. It can be fully integrated with other SysMaster products such as QoS , Firewall, VPN and other network appliances. The VoIP gateway features the following functionalities:
Support for up to 480 digital channels;
Support for E1/T1 ISDN/PRI lines;
Unlimited dial-plans;
Radius Interface for call authentication, authorization, accounting (AAA) with support for multiple IVR schemas;
Conferencing of IP call legs;
Advanced Web Interface;
Support for popular codecs;
Support for H323 v2,v3,v4 including canMapAlias attribute;
Support for all standard H323 gatekeepers;
Compatibility with Cisco, Lucent, Quintum, Clarent, etc.;
Compatibility with IP Phones and Microsoft NetMeeting (TM);
Support for Advanced IVR;
Advanced call timing with call termination messaging.
VoiceMaster offers high-density solutions that can be easily upgraded to allow additional channel termination without the overhead of purchasing additional hardware.
Unlimited Dial Plans/Routing Tables Support
The SysMaster VoIP Gateway/Class 4 Softswitch supports unlimited number of inbound and outbound dialing plans as well as full scripting language for number translation. Dialing Plans can be bind to PSTN lines, inbound Network IP Addresses/Network Segments, or inbound end points. Dial Plans can be time based to allow Time-based and Least Cost Routing support. Provide complete fault-tolerance to disable destinations that fail the defined L3, L4, L7 health checks.
Complete IP Based Solution

Two-IP-Leg Support for Proxy Services. Supports IP-to-IP-to-IP services in proxy mode or callback server mode. The unique implementation offers flexibility for inbound calls to come via IP and go out via IP or PSTN based on the selected dialing plan/routing table. This gateway solution supports up to 1920 one-way VoIP channels and 480 PSTN/SS7 channels.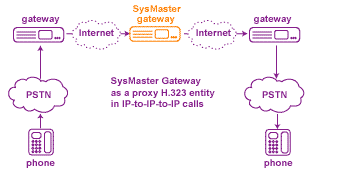 Unlimited Gatekeeper Registration Support
The SysMaster VoIP Gateway/Class 4 Softswitch will register with unlimited number of remote, third-party gatekeepers to allow flawless call routing. This unique feature allows for easy integration with all major terminating provider services. Gatekeepers can be easily specified for all inbound and outbound routing purposes.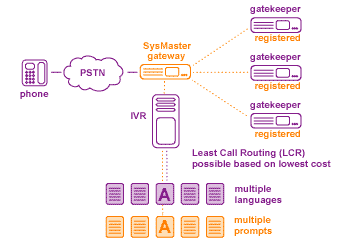 RADIUS/VSA Support for Complex Billing Environments
The SysMaster VoIP Gateway/Class 4 Softswitch fully supports RADIUS/VSA parameters for complex RADIUS based billing environments. Provides support for credit-time, credit-amount IVR announcements, as well as custom Welcome and Call Termination announcements. In addition, it will support custom languages, custom prompts and custom call termination times to allow full flexibility of service implementation. Supports RADIUS Server and Language Server groups for fault-tolerance.
Unique Integrated Solution with Attractive Price Tag
SysMaster VoIP Gateway/Class 4 Softswitch is the only gateway solution that allows easy configuration and management of complex VoIP routing infrastructures. The Gateway is fully compatible with Cisco, Lucent and other third-party providers' equipment as well as IP phones, and soft phones. The Gateway will allow any combination of inbound and outbound PSTN and VoIP calls with dynamic codec switching and codec negotiation. Currently supports the most popular codecs.
VoIP Gateway Platform
SysMaster provides its clients with the ability to enhance their competitiveness and respond to customer's need through the introduction of a 2 level integrated VoIP Gateway platform.
This solution offering can provide you with the ability to respond faster to customer demand and market opportunities and take advantage of reduced costs and speed of deployment.
You can enhance your business as follows:
SysMaster VoIP Gateway



CPU/DB

Max Number of Ports
Max Number of PSTN Lines


Max Number of IP Channels


Level 1
Pentium® 4
up to 4 ports*
120 PSTN lines
240 IP channels
Level 2
Dual XEON
up to 16 ports*
480 PSTN lines
960 IP channels
Level 3
Quad XEON
up to 32 ports*
960 PSTN lines
1920 IP channels
Level 4
x5 Level 2 GWs
up to 80 ports*
2400 PSTN lines
4800 IP channels
Level 5
x10 Level 2 GWs
up to 160 ports*
4800 PSTN lines
9600 IP channels
*Based on projected E1 usage.