VoiceMaster Billing Platform
Product Overview
VoIP Billing
Flexible Call billing and Calling time measurement
Refined call billing
VoiceMaster provides refined configuration for call billing. Administrators can select which call legs can take part in the process of call duration.
Flexible call billing based on call duration.
Flexible call billing based on the phone number through which the call enters the system. The system supports ANI/PIN prefix/Username/Caller ID/IP address authentication.
Flexible granularity of rounding call minutes.
Grace periods and additional call adjustment billing policies.
IVR integration with the selected billing policies.
Two sides of system interaction
End user interaction

CRM
In the case of end users of the system, online billing functionality is exposed through the CRM web site where users can manage their accounts and purchase calling time and view detailed calling history records. End users of resellers and Corp. Clients can also use the CRM to see rates related to them as well as manage their accounts.
Browser based Administrative console for managed services.
In the case of managed services resellers, corporate clients can access information related to their system activity. The look of the Administrative console is customized to expose only information related to them.

Administrative interaction

Administrative console - allows for full feature control of the system.
Supported Client accounts
End User accounts
These are regular end users of the system making the actual calls;
Reseller accounts
These are the accounts of resellers of the service the managing company provides.
Corporate accounts
These are the accounts of corporations which use the system with special type of billing. With this type of service many users are bound to one corporate account.
Wholesale accounts
These are the accounts, the system uses to identify wholesale telecom clients that utilize the infrastructure of the management company.
End user management
Per user defined rates;
Per user defined currency;
Monthly Email statements;
Online Statements;
User defined profiles;
Per user balance;
Detailed Call History per user/call with attached routing/billing information per call;
Effective Rates calculator listing effective rates for each user.
Flexible Rates Policies
Floating model for rates
Administrators can form rates for users based on a provider rate and adding adjustments reflecting profit/expenses. This model is floating model because the final effective rate for a user is bound to a provider rate that can fluctuate. The binding algorithm can be either with absolute or relative (percentage) margins.
Fixed model for rates
Administrators can form rates for users based on a flat rate.
Per user rate adjustments
Separate Reseller rates
Separate Corporate account rates
Separate Provider and wholesale rates
Flexible PIN Batch Management
The system provides batches of PINs for Resellers and Corporate accounts. This is suitable for printing calling cards and selling them from kiosk type of sale points or for online sale of calling cards. The system provides:
Fine granularity of batch activation
Detailed information of current status of already generated and activated PINs
Flexible Import/Export of Batch PINs
Comprehensive Reports
Accounting Reports

Revenue reports
Expenses reports
Detailed call history reports for agents like Resellers, Corporate accounts, Wholesalers and Billing Providers

Flexible Export of all reports.
Rich data presentation - Table/2D - 3D chart data presentation
System Reports
Low Balances
Transactions
Batch Statistics
Balance Alerts (additional module)
Currency Management (additional module) - the system can support multiple currencies e.g. the system can support separate currency for each user. The currency propagates to the CRM web site.
Billing Management Tools
Global Rate tool for management of reseller/wholesaler/provider/system rates
Tool for calculating call costs along with detailed routing information for a sample call.
Flexible Billing
Types of users

Users can be prepaid, postpaid or regular.

Prepaid
The system allows for automatic creation of batches of user accounts for prepaid services. These are suitable for selling Internet cards.

Postpaid
Postpaid accounts have the flexibility of payments at the end of a set billing period.

Regular
Regular end users can register and administer their accounts including recharging their accounts through the online CRM site.

All users can recharge their accounts.

Reseller structure

VoiceMaster supports Resellers, Wholesalers and Providers with flexible commission schemes and rate adjustment.

Types of billing

The system supports time based and volume based billing.
Wireless, Broadband and Traditional ISP Billing
The system can interface and bill multiple type of users. It can bill users connecting through Dial-up modems, broadband ISDN lines, DSL/Cable, WLAN users connecting to the system through an Access Point.

With VoiceMaster, the ISP infrastructure includes the VoiceMaster functioning as a gateway/router/access controller, a DHCP server, a DNS server and a possible firewall. The VoiceMaster server features optional firewall capabilities for filtering inbound and outbound traffic. The server can work also behind NAT where it is responsible for NAT translating and giving access to NAT-ed users to the Internet.

VoiceMaster is suitable for building Wireless Hotspot serviced areas. With its complete integrated feature set, it represents the ideal solution and reasonable price.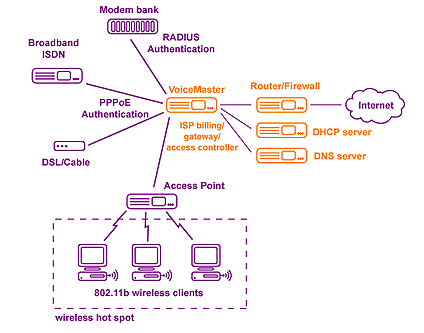 CRM Integration
The VoiceMaster billing solution comes complete with an integrated comprehensive CRM interface that allows for:

Register for the service online.
View and change their account profile.
View detailed history records about Internet sessions.
Buy calling time with a credit card. The CRM web site provides secure (SSL) pages and scripts for credit card processing. To this end the hosting company should have a valid merchant account. All other APIs for processing the card are provided by the CRM server CGI modules.
Integrated email server for dispatching service emails.
Dynamic QoS Connection Management
Each Internet user account with the system can be attached specific QoS rules. QoS rules can enforce limits on the maximum bandwidth allowed for the inbound and outbound traffic. Should the peering routers support DiffServ, the system can enforce additional rules regarding traffic prioritization and policing. All features come with fine traffic filtering granularity based on IP source/destination addresses, inbound/outbound TCP/UDP ports.
Integrated Firewall
The integrated firewall provides for traffic filtering and user admission based on username/password or source IP address/range. The firewall works along with the RADIUS server and the AAA system. The following filters can be enforced:

IP protocol - TCP, UDP, ICMP and more;
Source IP address;
Destination IP address;
Source TCP/UDP port;
Destination TCP/UDP port;
RADIUS server and AAA
The integrated RADIUS server is compliant with industry standards. It can communicate with

DSL, Cable, ISDN, Dialup
PPPoE and VPNs
VoIP
Internet Kiosk and Café
Wi-Fi hotspots

Accepted methods for authentication are:

by IP;
by PPPoE - username/password;
by RADIUS protocol - username/password - users accessing the system from modem banks;
by PIN;

Login page for universal login

For PIN access, the system provides an easy HTTP based authentication mechanism. This method requires a standard web browser. The whole process of authentication is as easy as filling a PIN password in a web page. The logout process can be done based on specified timeout or visiting a logout page (same as the login).
Centralized Session Control Center
All administration is handled through an advanced browser based console. It allows real time monitoring of current sessions and with the possibility for administrative intervention.
Extension Modules
Gatekeeper Extension Modules
Advanced SIP Registrar/Gatekeeper
Special Gatekeeper Module (req. GK Mod)
Automatic Route Fail-Over Module
Exception Numbers Module/Customer Service
Custom Routes Module
Number Redirect Module
Billing Extension Modules
International Currency Module
Batch Time Period Billing Module
Progressive Billing Module
Special Numbers Module (DNIS/ANI Billing)
Cisco Gatekeeper Interface Module
Custom Statement Module
Discount Credit Time Module
Low Balance Alarm Module
Outstanding Invoices Module
Phone Shop/Cashier Module
Peak/Off-Peak For Providers Module
Peak/Off-Peak Time Module
Flag Fall Module
Custom Tax
Database
Database Replication Module
Platform Extension Modules
Managed Services Module
Virtual Web/HTTP Server Module
Custom Prompts Module
Web Console
Comprehensive Management Console
The VoiceMaster Management Console provides comprehensive feature set for easy administration of most aspects of the system. The console allows for remote control and management of the whole infrastructure - starting/stopping of separate system components, administering accounts, rates, system configurations, reports. The console environment supports multiple application windows to view relating information. The console provides import/export utilities for data transfer. The console can be used by third parties such as Resellers/Corporate clients to access information relating only to them.
Managed Services Benefits
Resellers of the managing company can login and administer their rates, create PINs as well as administer their users.
System Features and Tools
Access Control Lists for accessing the system console. Each administrative user has separate roles based on its privileges.
System Stats - displays system activity in terms of calls, minutes, successful/failed call ratios, average profits, etc.
Area Code stats - displays call stats in terms of accessed area codes.
Comprehensive Call History reports
Current calls system monitor - shows the current calls managed by the system along with CDR information for each call.
Support for Multiple web sites hosted on the box.
User calls error and warning logs
System event error and warning logs
RADIUS Server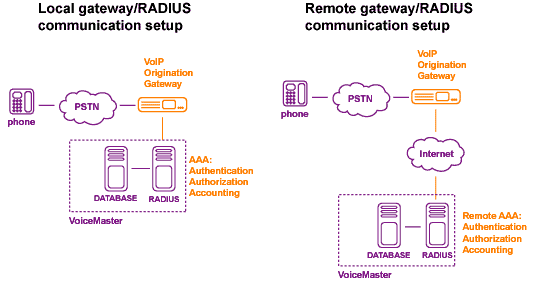 VoiceMaster supports and advanced Radius server that works well with all radius compliant VoIP gateways and fully supports VSA and AVPAIR attributes. The system features:

High call authentication, authorization, accounting (AAA) throughput
Dynamic IVR control
Support for ANI/DNIS billing and authentication
CDR collection mode for wholesale users
Flexible call leg capturing for improved call time calculation and billing
Improved security via Radius Shared Secret

VoiceMaster RADIUS Server is a full scale Radius Server running on UNIX/Linux platform to high throughput and unbeatable performance.
IVR Server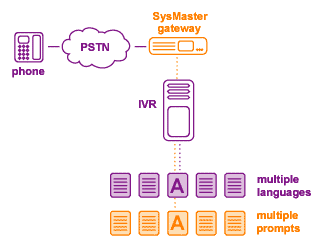 IVR Server is an advanced TFTP server implementation with support for over 10 languages, and multi-language prompts. The TFTP server allows dynamic retrieval of audio files and script files based on language selection. The server can also support selectable language serving based on IP address of the requesting party.
The IVR server features

Industrial throughput
Multi-language voice support
Support for over 10 languages
Flexible upload and download mechanism
Script file serving capability
Database Server
Database System is the heart of the billing platform. The system features high-performance throughput with over 50 new calls per second capability and over 5 thousand concurrent calls and over 4,000,000 calls per day. The database can run in a replicated mode to allow full fail over functionality. Our solution features SQL Server integration on Linux platform. Most of the billing logic is database based to allow high level of security and unmatched performance.

Features

The database features the following:

High performance in multi-transaction, multi-threaded environment.

High index based data retrieval

High performance data manipulation based on stored procedure utilization

Support for popular ODBC/JDBC/native drivers

Support for CGI scripts within the box

Support for special security agents for remote server connectivity

Data replication and mirroring

Manager access so managers can create their own database functionality and retrieve/present data on the fly.

Three-tier security for access to sensitive system data.

The overall DB implementation guarantees high performance results, high data security and industrial reliability.
CRM Interface
Introduction

VoiceMaster provides an extremely flexible CRM (Customer Relationship Management) web site and CRM toolkit that allow regular end users to sign up for your phone service and operate their account online. The totally automated CRM interface allows users to:

Register for the service
View and change their account profile.
View detailed history records about calls they made. This data is taken straight from the CDR records of the database.
Buy calling time with a credit card. The CRM web site provides secure (SSL) pages and scripts for credit card processing. To this end the hosting company should have a valid merchant account. All other APIs for processing the card are provided by the CRM server CGI modules.
View updated rates which are displayed exactly as the administrators set them for their system in the database.

Flexibility

All static pages of the CRM web site can be customized and along with it the pictures of the site so that a totally new look is achieved. In addition, the view of the dynamic part of the pages served through the CGI modules can be modified thanks to the CSS (Cascading Style Sheets) used to format the pages. The dynamic pages are assembled through the use of templates that can be changed as well. All custom content is managed through FTP protocol.

E-mail Interface

The system has an integrated SMTP email server for sending monthly statements to users that opted for this. This is very convenient for both Prepaid or Postpaid user accounts. In addition this module is used for sending customized messages to users for operating purposes such as registration confirmation, password retrieval, monthly statements.

You can view the standard web interface that ships with the unit at:
VoIP Integrated Billing Platform
SysMaster provides its clients with the ability to enhance their competitiveness and respond to customer's need through the introduction of a 5 level integrated billing platform.
This solution offering can provide you with the ability to respond faster to customer demand and market opportunities and take advantage of reduced costs and speed of deployment.
You can enhance your business as follows:
VoiceMaster Billing and Routing Platform*



CPU

DB

Call Capacity

Number of Users
Static Mode
Routed / Softswitch Mode
Proxy Mode
Level 1
Pentium® 4 Processor
1000
500
350
up to 1.5M
Level 2
Dual XEON
2000
1000
700
up to 1.5M
Level 3
Pentium® 4
Dual XEON
3000
1500
1050
1M - 5M
Level 4
Dual XEON
Dual XEON
8000
4000
2800
1M - 5M
Level 5
Quad XEON
Quad XEON
20000
10000
7000
Unlimited
*All corresponding values are projection estimates only.