Key Features
VoIP - H323/SIP/MGCP Support


PSTN - ISDN/SS7/CAS/R2 Support


Dynamic Call Control and Disconnect
IVR Feature Management
Unlimited Number of Mailboxes
Unlimited Number of Voicemail Groups
Voice Quota Management
Voice Mail Group Management
Message Envelopes
Advanced Message Navigation
New/Old Folder Management
Message Forward
Message Broadcast
IVR Management

Custom Greeting


General Greeting


Unlimited Language Support
Subscriber Page Support
Up to unlimited Number of Mailboxes
Long-distance and International Voice Mail Support
H323,SIP and PSTN Protocol Support
Complete Voice Mail Functionality over IP and PSTN
Password/PIN Based security
Web and Phone Management Access for Mailbox Users and Administrators
Voice Mail Email Exchange and Notification
Voice Mail Forwarding
RADIUS Billing Interface
Managed Services and Virtual Platform Partitioning Support
Extended Key Features
Single Selection Callback


Radius Billing Interface


Radius Authentication Interface
Admin Web Management Interface - Enterprise
User Web Management Interface - Enterprise
User CRM Interface - Consumer/Hosted Services

User CRM Management Interface - Consumer/Hosted Services
Unified Message Distribution


Unified Message Interface


Automated Email Message Distribution
Automated Email Notification
Interactive Survey Functionality
Survey Storage and Management

Overview
Problem
VoIP provider requires a solution that will allow Voice Mail services for clients that receive calls via IP and PSTN. The provider requires VoIP or PSTN calls to default to Voice Mailboxes if the call recipient is unavailable or has a Do-Not-Disturb option enabled.
Solution
SM7000 supports H323, SIP and PSTN protocols to allow flexible call processing. Callers can connect to the Voice Mail platform via IP or PSTN or Web and have full access to all advanced Voice Mail functionality. International and long-distance VoIP callers can also leave, retrieve, and manage messages in real-time from a remote Voice Mail server. In addition, the platform allows telecommuters and corporate field associates to take advantage of Voice Mail functionality while traveling or working from remote locations. SM7000 unique features flexible price structure and high return on investment.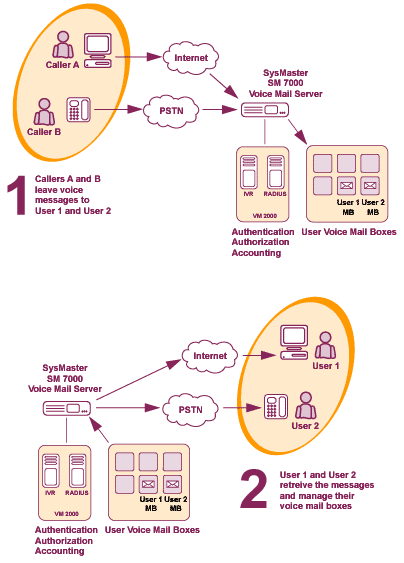 Up to unlimited Number of Mail Boxes
SM7000 supports up to unlimited number of mailboxes with pre-set size quotas. The mailboxes are grouped for flexible administrative templates and easy management mailbox users can also be related to PBX accounts to allow single access to PBX and Voice Mail functionality.
Long-Distance and International Voice Mail
SM7000 allows long-distance and international users to support virtual mailboxes outside the country of their residence. In fact users can be anywhere in the world and retrieve their messages via Web, Email, or VoIP. This allows extremely flexible platform implementation and dynamic virtual office support.
H323, SIP, PSTN/TDM Web, Email Access Support
SM7000 allows callers to leave a message for unavailable users once they connect to the platform via VoIP or PSTN. In addition, users can manage their greetings or passwords via VoIP or PSTN as well. The messages can be retrieved via Web, VoIP, PSTN, and Email to allow flexible mailbox management and low retrieval cost.
Web and Phone Mailbox Management
SM7000 allows flexible mailbox management for all system users to provide them with the necessary tools to modify greetings and passwords, to delete and forward messages, and to setup mailbox options. Administrators can expire, lock, and restrict user accounts to secure the system integrity.
RADIUS Billing Interface
SM7000 supports Radius Billing Interface to SysMaster VM2000 Billing Platform. This allows the Voice Mail server to support real time billing procedures where as all inbound voice mail messages are accounted and billed for.
Managed Services and Virtual Server Partitioning
SM7000 supports virtual server partitioning to allow providers to lease functionality to third-party businesses and completely outsource the Voice Mail management to third-party administrators.
Voice Mail Call Flow
One-Stage Voice Mail Calling
Caller dials a DID number or connects to SM7000 via VoIP
SM7000 accepts the call
SM7000 plays Custom User Greeting
Callers leaves and approves the message
SM7000 stores the message and notifies the user via Email
User retrieves the message via IP, PSTN, or Web
User forwards, deletes, or saves the message.
SM7000 sends Radius signals to VM2000 for Billing purposes
User administers the mailbox options via IP, PSTN, or Web
Two-Stage Voice Mail Calling
Caller dials a DID number or connects to SM7000 via VoIP
SM7000 accepts the call
SM7000 plays Welcome message
SM7000 asks for Mailbox number
Caller enters the Mailbox number
SM7000 plays Custom User Greeting
Callers leaves and approves the message
SM7000 stores the message and notifies the user via Email
User retrieves the message via IP, PSTN, or Web
User forwards, deletes, or saves the message.
SM7000 sends Radius signals to VM2000 for Billing purposes
User administers the mailbox options via IP, PSTN, or Web