Introduction
SysMaster VoIP Class 4/Class 5 SoftSwitch/Session Border Controller allows for redirecting H.323/SIP traffic. This way it acts as a Proxy H.323/SIP server allowing for the following:
Implementing flexible H.323 setups;
Hiding the source IP address of the origination party (traffic anonimization);
Allows SIP/H.323 packet conversion
Allows full codec conversion
Traffic Anonimization

Two-IP-Leg Support for Proxy Services. Supports IP-to-IP-to-IP services in proxy mode or callback server mode. In this mode the gateway intelligently seeks to establish communications using the codecs that both end gateways support. This way the throughput of the gateway arises significantly as the need for decoding/encoding the packages is eliminated. If a common encoding format cannot be found, the gateway translates the voice packets in format suitable for each end gateway. In addition, the unique implementation offers flexibility for inbound calls to come via IP and go out via IP or PSTN based on the selected dialing plan/routing table. This gateway solution supports up to 1920 one-way VoIP channels and 480 PSTN/SS7 channels.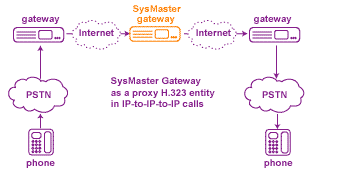 Custom Routes

The gateway can use custom routes per termination gateway. Each route has "price" coefficient attached via predefined providers. In case a call route is serviced by multiple providers, the gateway in proxy mode can pick the least expensive route.
RADIUS Billing

The gateway can send to a RADIUS server call details record for all calls going through it. The CDR records can be later exported and viewed for billing purposes. In addition, the gateway can optionally play IVR messages over IP networks if this is required.
VoIP Class-4/Class-5 SoftSwitch/Session Border Controller


Max VoIP Channels

Max PSTN / SS7 Channels



Level 1
up to 240
up to 120
Level 2
up to 960
up to 480
Level 3
up to 1920
up to 480