Introduction
VM 2100 is a full-featured IP-based telephone set for office telephony via Ethernet base communication. Over the office LAN connection, it provides IP-PBX solution such as station-to-station call, IP call and local PSTN/PBX extension call via PSTN Gateway. The traditional PBX functionality is provided with H.450 features together with Gatekeeper or IP/PBX Call Manager. Two 10/100BaseT embedded switch/hub RJ-45 ports allow connect to office LAN and PC on your table.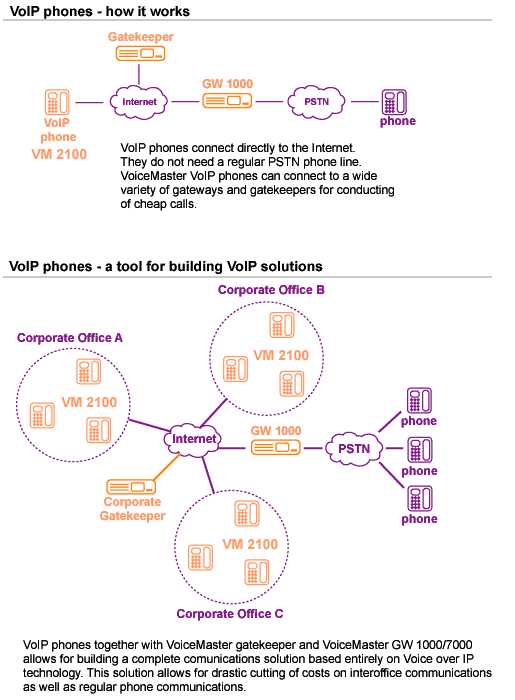 It is easily interface with ADSL/Cable Modem that is provided by ITSP, ISP or carrier company to provide VoIP services to residential and SOHO application. An integrated Analog Phone features provides IP call or PSTN call selection. Or to be a Plain Old Telephone set (POTs) when external power is failure.
It provides programmable keys and feature buttons, an internal high-quality speakerphone with microphone mute, HOLD function, FORWARD and TRANSFER feature buttons. The LAN Phone 101 also provides a dot matrix of two lines 24 characters LCD display each. The display provides features such as date and time, calling party name, calling party number, and digits dialed. An LED associated with each feature and line buttons provides feature and line status.
TELNET and LCD front panel provide local and remote configuration, Management and software download. By using this feature, ITSP/ISP provides centralized control, management and software upgraded remotely. Several examples are listed below: IP/Gatekeeper addressing setting, dial plan, voice coder, Gatekeeper and Peer to Peer mode selection, QoS and call progress tone setting.

Application
ISP/ITSP (Internet Telephony Service Provider)
Multi-nation enterprise communication
SOHO Telephony
IP-PBX with office telephony services
Phone to PC, Phone to Phone

Benefits
Easy access to Internet phone call
Cost Saving - Telephone call from VPN or public Internet
Follows the existing telephone call dial plan
Easy interface to ADSL/Cable Modem or Leased line equipment
Built-In two 10/100BaseT Switch/Hub
Built-In analog line telephone function
Provided IP call or PSTN call selection
(Or) to be a Plain old Telephone set when external power is failure
Features
Support ITU-T H.323 V2/V3/V4 protocol
PPPoE (option)
Behind NAT router or IP sharing device
Support both Fixed IP and DHCP
Support H.235 security function
Support Fast Start and H.245 Tunneling
Provide H.450 services (Hold, Transfer, Forward)
Multiple E.164 (line number) supported
Automatically GateKeeper Discovery
Alternate Gatekeeper selection
Provide Peer-to-Peer Mode (Non Gatekeeper needed) selection
2 x 24 dot matrix LCD display
Speaker phone and Handset operation
Ring tone, Speaker and Handset volume adjustable
10 sets last number redial
LCD Display: Time, Date, Caller ID, Call Duration
12 Number Keypads: 0 to 9, # and *
4 LCD operation keys : OK, C, LEFT and RIGHT
10 function keys for Memory dial or Multi-Line function
8 one touch function keys : Speaker, Redial, Mute, Hold, Transfer, Call Forward, PSTN, Message
5 LED display : PSTN, Message, Hold, Mute and Speaker
Enter IP phone and Gatekeeper IP address from Keypads
Configure Dial path selection
Microsoft NetMeeting (TM) v3.0 compatible
Support QOS by setting TOS (Type Of Service) parameters of VoIP packet