Key Features
Concurrent VoIP and PSTN Conference Call Support
Up to 360 Concurrent Callers
One or Two-Stage Conference Dialing Options
Custom Conference Announcements
Conference and IVR over IP
H323, SIP, and PSTN Protocol Support
Conference PIN Authentication
Advanced Conference Administration
Conference Recording and Caller Management
Inbound and Outbound Conference Calling
Radius Billing Interface
Managed Services and Virtual Platform Partitioning Support
Overview
Problem
ISP provider needs to expand the types of services to allow corporate clients to conduct local and long-distance conference calls. The required equipment must support callers that connect using traditional phone lines, as well as callers utilizing IP Phones and Soft Phones.
Solution
SysMaster VoIP Conference server allows advanced conference server setup where callers coming via PSTN and IP are connected into secure conference rooms. The application support advanced administrative options to allow conference room managers to records sessions, control room access, and manage the status of the conference room.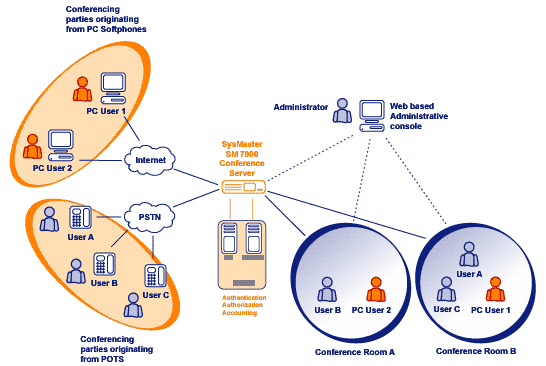 H323, SIP and PSTN Support
SM7000 Conference Server supports H323, SIP, and TDM protocols to allow all types of callers to connect to the conference server. In addition it supports IVR over IP for flexible user authentication and system interaction. Utilizing VoIP and PSTN based access methods the platform significantly increases the system performance and reduces the cost associated with local and long-distance call management.
One and Two-Stage Dialing
SM7000 supports one and two-stage conference profiles. The one-stage profile allows the callers to enter a conference room number associated with a dedicated DID number. The one-stage conferencing reduces the number of steps to enter a virtual conference room number. The two-stage profile allows the callers to enter a virtual conference room number once they connect to the system via a universal DID number. This procedure allows the platform manager to support a single DID access number and allow the callers to dial a virtual conference room number once they are connected.
Conference PIN Authentication
SM7000 supports PIN based authentication for all callers as well as the conference room administrator. The callers may be asked based on the conference profile settings, to provide PIN in order to connect to the desired virtual conference room.
Flexible Conference Profile Administration
SM7000 allows platform managers to setup unlimited number of conference profiles to allow flexibility and high system throughput. In addition, the profiles allow Managed Services support for virtual platform partitioning.
RADIUS Billing Interface
SM7000 supports Radius Billing Interface to SysMaster VM2000 Billing Platform. This allows the conference server to support real time billing procedures where as all outbound and inbound conference calls are accounted and billed for. All call billing and routing is done in real-time.
Custom Announcement Procedure
SM7000 supports flexible Language Server setup to allow easy prompt and IVR management in multiple languages. Each customer can define a custom prompt on all conference call levels.
Conference Call Flow:
One-Stage Conference Calling
Caller dial an 800 number (DID) or connects to SM7000 via VoIP
SM7000 accepts the call
SM7000 plays Welcome Message
SM7000 asks for PIN Number
Caller Enters PIN Number
Caller is entered into a virtual conference room associated with the DID
All callers are now in conference
SM7000 sends Radius signals to VM2000 for Billing purposes
Conference administrators manage callers and record sessions
Two-Stage Conference Calling
Caller dial an 800 number (DID) or connects to SM7000 via VoIP
SM7000 accepts the call
SM7000 plays Welcome Message
SM7000 asks for a Virtual Conference Room Number
SM7000 asks for PIN Number
Caller Enters PIN Number
Caller is entered into a virtual conference room
All callers are now in conference
SM7000 sends Radius signals to VM2000 for Billing purposes
Conference administrators manage callers and record sessions